Tomorrow a girlfriend of mine is coming over with her two boys.  Knowing that Samuel has had an especially hard time sharing lately I decided I'd be proactive about the issue.  I told him if there were any toys he thought he might not want to share tomorrow that we could put them in his room tonight.  Well, it seemed like a great idea at first, that is until his pile of "no share toys" exceeded his "share toys".  I think he might have put aside every single toy he owns had I not eventually put a limit on it.  So much for great ideas.  I do hope this plan will help though, but I'm certain there is a "share toy" that suddenly tomorrow will become a prized possession.  Maybe if I remind him that he agreed to share, it will help calm the storm.  Who am I kidding?  He's 2 1/2 - there isn't a ton of reasoning you can do at that age.
I forgot to report on Syd's 6 mo. stats!  She's long and lean.  How on earth did my athletic 5'2" frame produce that?  She's 27" (85%) and 14 lbs 15 oz (12%).  For her height her weight is off the charts (in the negative).  The Doctor actually seemed slightly concerned about her weight because in the past she'd been at the 30
th
percentile.  But he and I agreed that she looks really healthy and just take one look at her pictures - there is plenty of baby chunk on this baby! :)  But the slow weight gain, in combination with her reflux, and the fact that she's had periodic blood in her diapers (sorry for
TMI
!) means we need to keep an eye on things - though I'm certain she's just fine.  She's even starting to scoot and somehow make her way toward toys (look out Samuel!).  I suspect crawling will be in the not too distant future.
I know I have talked a lot about the kids lately and have not offered much in the way of useful information (which was the original point of my blog).  I apologize.  Though I hope my family at least is enjoying the kiddo info.  I'm just so swamped over the next couple weeks I don't have a lot of time to prepare the info posts that I like doing.  If anyone cares, I appreciate your patience.
One bit of useful info I do want to pass along now is the
personalized name sets
that Pamela is offering at
Digitreats
.  You can get digital papers for approx. $5 with your child's name on them (provided she already has your child's name completed).  They are really cool sets and would be so perfect for
scrapbooking
and many other digital projects.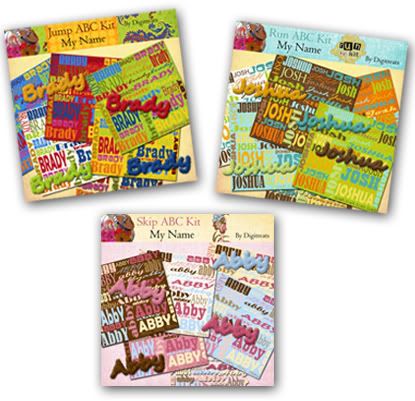 TGIF!
Tricia